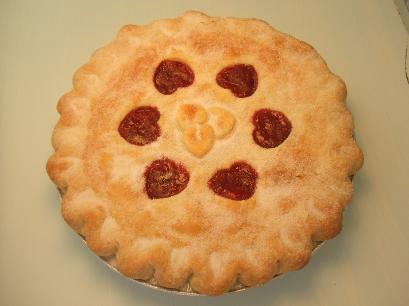 About

An artisan pie, etc., bakery. All products are crafted with care from a licensed kitchen.

Ingredients

Pie crusts are made with AA butter, my special combination of unbleached wheat flours, a pinch of sea salt, and spring water. An all butter (no shortening) crust, is flaky, with a superb buttery flavor, and no trans fats. Unbleached flour, is flour that has not been through the chemical process of bleaching. Unbleached flour imparts a richer flavor to the crust. Fillings are all natural and obtained locally when possible. Baking powder, when used, is NON GMO, and aluminum free.
Trish's Bakery is Open

All pies are made in licensed kitchens;

Trish's Bakery, and MLE's Kitchen,
using Trish's original pie and pie crust recipes.
April through Columbus Day in October

9am to 5pm, seven days a week
you will find my freshly baked pies ready for purchase at

"The Farmer's Cupboard"

located next to Hidden Mountain Gift Shop,

1653 Main Road, Phippsburg, ME 04562

After Columbus Day
pies and special pies may be pre-ordered by calling

Trish's Bakery - 207-389-2313
or
MLE's Kitchen 207-443-6857

The Farmer's Cupboard,

located across the road from Trish's Bakery,
is my family run farm stand

selling local and organic vegetables, fruits, berries, pies,

Maine maple syrup, honey, and crafts.

Find "The Farmers Cupboard" on Facebook
Serving Information

For best flavor, serve pies warm or at room temperature.

8 inch pies serve five to six. 9 inch pies serve six to eight.

Pricing

8 inch pies - $16.00
9inch pies - $20.00
Holiday and Special Pies Pricing
8 inch pies - $20.00

9 inch pies - $24.00

Storing Information

Custard, pumpkin, and cream pies require refrigeration. These types of pies may freeze well, but do not thaw with the most successful results. Lemon Meringue pie keeps uncovered at room temperature for 1 day, (keep out of drafts), and up to 3 days in the refrigerator. Baked fruit pies keep at room temperature for 2 - 3 days, in the refrigerator for up to 1 week, and they freeze very well.

Freezing a Baked Pie

When the pie has cooled to room temperature, place the pie, uncovered, loosely covered, or in it's original pie box, in the refrigerator to become cold, (up to 4 hours) before freezing. This will ensure a quicker freeze. A quicker freeze results in less damaging ice crystals forming in the pie as it freezes. After chilling, place the pie, uncovered, loosely covered, or in it's original pie box, in the freezer. (Tightly covering the pie, before it is completely frozen, may cause the filling to bubble up through the vents in the top crust as it freezes.) When completely frozen, up to 6 hours, wrap the pie in freezer wrap, or a freezer vacuum bag system, and place back in the freezer. Frozen, baked fruit pies will keep up to 4 months in the freezer.

Warming a Frozen Pre-Baked Pie
Remove the pie from the freezer, unwrap, and thaw at room temperature for 1 hour. Bake pie at 375o for approximately 35 to 45 minutes, protecting the edges with a shield ring or aluminum foil. A temperature probe inserted in the center of the pie should read 110o to 140o, depending on how warm you like your pie. 110o is nicely warm, 140o is very warm, 160o or higher may cause a burn to your mouth. Your pie is now ready to serve and enjoy!

Yum!

Thank you for visiting my store front.
Trish's Bakery, 1654 Main Road, Phippsburg, Maine Tele: 207-389-2313